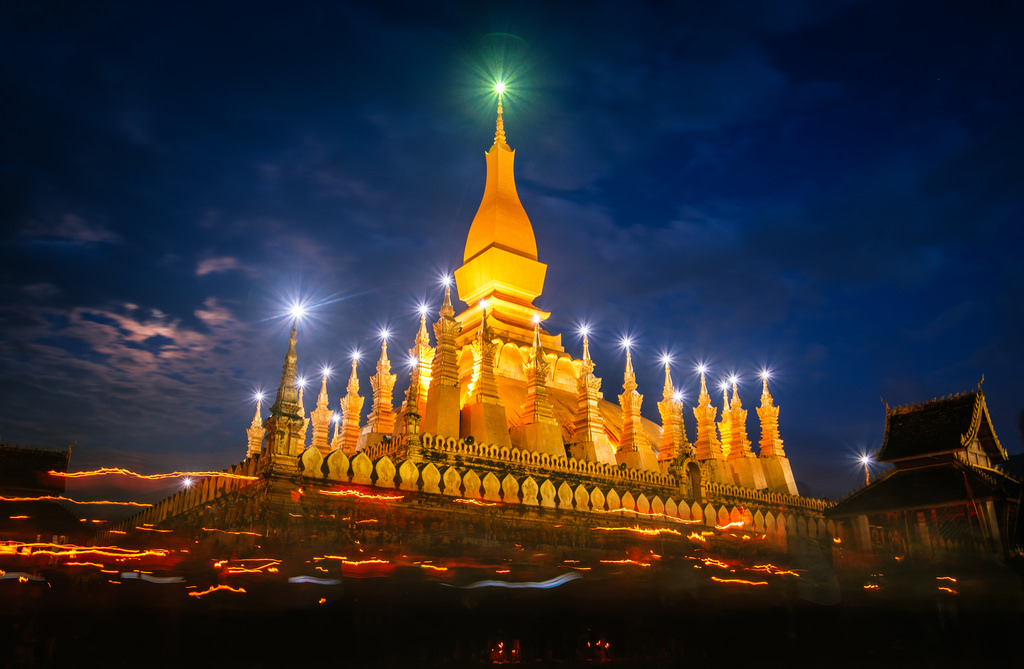 "Wonderful of Laos" 10-day tour is the best way to explore the legendary land – Laos, to know the culture, history, tradition and people, to see the most attractive landscapes, to get the experience on boat trip and discover the rural villages in the countryside.
TOUR CODE: NEOLAO-1002
PLACES VISIT: Vientiane - Vang Vieng – Phonsavan - Luang Prabang
Departure Dates: Daily
Detailed Itinerary
Gallery
How to book
Trip Highlights
Day 1: Vientiane Arrival
Day 2: Vientiane – Vang Vieng
Day 3: Vang Vieng – Phonsavan
Day 4: Phonsavan – Plain of Jars
Day 5: Phonsavan – Luang Prabang
Day 6: Luang Prabang City Tour
Day 7: Luang Prabang – Pak Ou Cave – Khuang Si Waterfall
Day 8: Luang Prabang – Flight to Pakse – Champassak – Ban Khone.
Day 9: Ban Khone – Phapheng Waterfalls – Pakse
Day 10: Pakse Departure
Day 1: Vientiane, Laos Arrival
+ Welcome to capital of Laos. Vientiane retains an old-world charm that is becoming increasingly rare. With its wide, open boulevards and many golden temples, this sleepy city hardly feels like a modern capital.
+ Start your tour with the city's oldest temple, Wat Sisaket – filled with thousands of miniature Buddha statues. Then explore the former royal temple, Wat Prakeo, which previously housed the famous Emerald Buddha. En route to the famous That Luang Stupa, stop to visit the imposing Patuxay Monument, known as Vientiane's own Arc de Triumph.
+ Overnight in Vientiane.
Day 2: Vientiane – Vang Vieng
+ Enjoy breakfast at the hotel then head north to the sleepy riverside hamlet of Vang Vieng, a small town next to the Nam Song River which is surrounded by jagged limestone karsts.
+ Upon arrival in Vang Vieng, become acquainted with the city on a brief tour before you check in to your hotel.
+ The rest of the day is free for you to explore the town.
Day 3: Vang Vieng – Phonsavan
+ We'll take a 7 to 8 hour journey by car to Phonsavan.
+ Along the way, enjoy the beautiful scenery and explore local rural life. Xieng Khouang, the gateway to the Plain of Jars, is the town which has been totally rebuilt after it was destroyed during the secret war in Laos.
+ Later in the afternoon, we arrive at Phonsavan, the capital of the Xieng Khoung province. Take a city tour and have the option of visiting MAG, a humanitarian organization clearing the remnants of conflict for the benefit of local communities worldwide (the Mines Advisory Group).
+ Enjoy the evening at leisure.
Day 4: Phonsavan – Plain of Jars
+ After breakfast, we will take a short trek to explore the mysterious Plain of Jars and the surrounding area. The jars are thought to be 2000 years old, although there is little proof to date them very accurately. Archaeologist still struggle to confirm the specific purpose of the jars. Were they used for funerary urns or to store rice wine? It remains a mystery until now.
+ Observe local village life; visit a small monastery in Ban Xiengdi and pass areas which were important battlefields during the American war.
+ We continue to visit Muang Khoun, the one place in the old provincial capital which was not been destroyed by American bombings.
Day 5: Phonsavan – Luang Prabang
+ After breakfast, drive to Luang Prabang (approx 6 or 7 hours) with a stop for lunch at Sala Phoukhou.
+ After lunch, we continue on our way to Luang Prabang via Road 13 while enjoying the beautiful landscape.
+ Overnight in Luang Prabang.
Day 6: Luang Prabang City Tour
+ Following breakfast at the hotel, we will visit the former king's palace, which is now a museum. The many items nicely displayed, including rare furniture, traditional costumes, arts, jewelry, ornaments as well as working tools and utensils of the early part of the 20th century.
+ We then take a tour of this enthralling town to visit Wats Xieng Thong, the Golden City Monastery, which dates back to the 16th century and is considered to be the best in Laos. Furthermore, we visit the temples of Wats Mai, Vixoun, and the national Stupa of That Luang.
+ Later that day, we go to the Phousi Holy Hill to enjoy the marvelous panoramic views of the town at sunset.
Day 7: Luang Prabang – Pak Ou Cave – Khuang Si Waterfall
+ We then board a boat upstream on the Mekong River, which also gives us a beautiful view of the tranquil countryside as well as an interesting visit to the mysterious of Pak Ou Caves, crammed with thousands of gold lacquered Buddha statues of various shapes and sizes.
+ Along the way, we stop at the village of Ban Xanghai, where they make the local rice wine.
+ After lunch, you will visit the Phosi Market where you will see such diverse offerings such as dried buffalo skin, local tea and saltpeter among the chickens, vegetables and hill-tribe weavings. Laos is also known for its traditional crafts, and today you will visit the Ban Ouay, Hmong Hill tribe, Ban Ou, Lowland Lao and Ban Thapene of Khmu village.
+ Continue driving to the beautiful Khouangsi Waterfall where you can splash around in the pools or walk along the forest paths, return to Luang Prabang and we take a short drive to Ban Xang Khong and Ban Xienglek, well known for its hand- made Jute Sar paper.
Day 8: Luang Prabang – Flight to Pakse – Champassak – Ban Khone
+ After breakfast, we will transfer to the airport for your flight to Pakse and Champassak.
+ On the way, visit Wat Phou, the most important Hindu sanctuary of the Khmer Empire then continue to visit Nagasang to take a boat cruise to the beautiful Island of Ban Khone where you can sometimes see Irrawadee dolphins.
+ Overnight in Ban Khone.
Day 9: Ban Khone – Phapheng Waterfalls – Pakse
+ Enjoy breakfast at the hote before cruising by boat to Khone Phapeng Waterfall, which spans 14km in width of the mighty Mekong River. This waterall is listed as the world's widest waterfall. More akin to tumbling rapids than a waterfall from a Western perspective, it is still quite impressive, especially during the rainy season when the water is running fast and furious.
+ Drive back to Pakse in the late afternoon.
Day 10: Pakse Departure
+ Have breakfast at the hotel and then enjoy a free morning before driving to the Pakse Airport to catch your departure flight
When you plan your trip with us, you'll be in the safe hands of one of our specialists throughout.
1Submit the Itinerary

Feel free to check out the itineraries on our website and find one itinerary which is matched with your travel plan and interest.

Then fill out the form on the right side of your itnerary page and click the submit button. After that, you can get to the next step.

2Speak to a Specialist

Speak to one of our specialist with your personal interest, travel plan and budget. We will answer your questions and offer suggestions sincerely.

After you are clear about your trip, and if you are ready, we will start plan your trip in detail according to your requirement anytime you want.

3Plan & refine

Your personal specialist will carefully design your trip into a detailed itineray with country facts, maps, accommodation, facsinating photos and a price.

And we will keep perfecting your itinerary until you're totally satisfied and ready to book, at which point you pay your deposit.

4Enjoy your Trip

After your booking, you can call your specialist with any last questions about your trip and we will give you a call a few days before your travel time.

If you have any problems during your trip, you can feel free to contact us, we will try our best to solve for you. Just hope you can enjoy your tour.